High nigh nonnie and a hah cha cha!
Growing up we watched "Fred Kirby's Little Rascals" every Sunday after church. It was on Charlotte, NC's CBS affiliate WBTV, Channel 3. The host, Fred Kirby, was a singing cowboy! When he wasn't yodeling a tune with his sidekick, Uncle Jim (Patterson,) we were treated to episodes of Our Gang and Little Rascals. Mr. Kirby was also a fixture - an ambassador, if you will - at Tweetsie Railroad near Boone, NC where he served as "Town" Marshall for many years.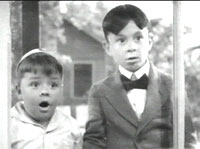 My brother and I loved the Little Rascals. Those escapades provided entertainment and lots of one liners for our amusement. I still sing Spanky's Saturday song. I giggle and growl Uncle George's "yum-yum! eat 'em up!" when I see sweet treats.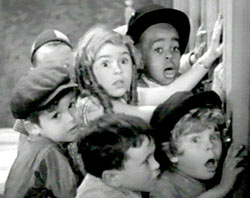 Here the kids hide from Uncle George cause as Stymie said, "[they] don't want no wild man nibblings on [them!]"
I can watch these today and still laugh so hard!
Like I'm a kid again.
Carefree.
On Saturday.
Nothing much to do.
Any one else Love the Little Rascals?
Can you choose a favorite Rascal or episode?