Have y'all joined FaceBook?
Have you found long lost high school buddies?
I did.
I have.
Way, way back in the summer of 1978 I took a Computer Science class.
I was a rising Sophomore at Clemson University.
Clemson, or Clempzin if you want to say it "right," is a land-grant university nestled in the beautiful foothills of the Blue Ridge Mountains in upstate South Carolina.
I went there for many reasons including the strong science programs.
Annnnnd, there was the issue of a Chemistry class I could not have passed if I could have bribed someone. That's a story for another time. But imagine the most curmudgeony professor and multiple him by infinity and you can guess what I faced.
Anyways, I took the computer science class hoping to fulfill my science obligations and move on to an English/OSHA major. The instructor was a laid back sort. Perfect for summer school. He tried to teach us FORTRAN and something called Binary. We had these index type cards that had to have holes punched in 'em to make a computer program run.
They never did what I wanted 'em to do.
The computer was housed in the huge basement of a huger building.
This is what a work station looked like.
I asked for help.
It didn't help.
Fast forward to the recent past.
We had a computer at work.
We had a computer at home.
I taught myself some stuff.
My kids taught me most of the stuff.
The kids introduced me to Napster, instant messaging, Strong Bad and Trogdor! who, if you didn't know, likes to "burninate the peasants." Look him up. You'll laugh.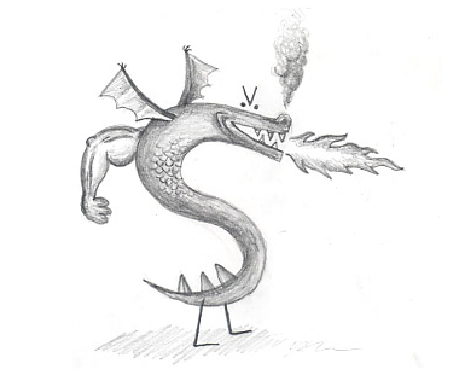 Jordan left for college. We chatted online any ol time we could through that Instant Messenger.
It was great.
Kat could chat with a bazillion friends online and the phone line stayed free for "old fashioned" me.
Along came Myspace and then FaceBook.
In the last couple of years, via Facebook, I have been able to keep up with all our kids (including the friends of our actual children,) find old friends, connect with new friends, send hellos to relatives and simply have way too much fun!!!!
There have been a couple of folks who asked to "be my friend" that I thought had probably forgotten me. Gives me that warm fuzzy feeling.
I love being instantly able to comment on a situation, razz friends about our sports rivalries and quickly find out what is up in general.
This is my current Facebook icon. That's the apron and swag Valerie sent me for a swap.
I was able to put Bill and some of our kids in to "yearbook" pictures.
This is what we would have looked like in a 1954 band picture.
I Zombie-fied myself!
Gruesome, huh?
I even took a quiz to find out that I am this Sexy Hollywood icon!!!
(That's Doris Day for you whippersnappers!)
And don't even get me started on all the creative folks and websites and stores that have Facebook pages!!!!
Anyone else play there?