See the Happy Baby? That's me!
See the Happy Lady holding the Happy Baby? That's Emmie!
I told you about her a couple of weeks ago.
Thought I'd share more of her stuff today.
Check out this box.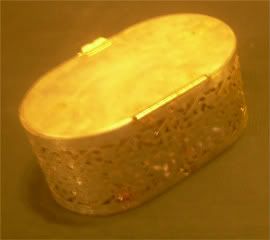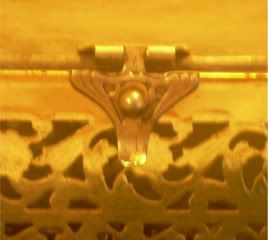 Isn't that a sweet latch? Because of age the box is a little wonky. There's a mirror inside on the lid.
It was an inexpensive purchase I am sure. I'd love to know what, if anything, came in the box. It's sides are a very thin metal and the top and bottom are lucite.
(Sorry my pics aren't fabulous as the box is.)
Let's see what Emmie kept inside.
Whoa! Old prescription bottles and even one left over drug! Yikes! The labels are from now defunct Drug Stores but are interesting anyway. They have Emmie's name, her doctor's name and sometimes instructions but none of the drugs names are on the labels! Scary.
The Ray-o-Vac battery is still "factory sealed" but rusty. There's an old tube in the box of Blistex - gotta love the lips. There's a tube of mecurochrome in the other box. Remember getting skinned knees painted with that stuff? A hair clip and a crochet hook in there too.
But this is one of my very, very, very favorite things evah!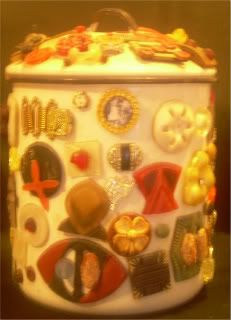 It's an enamel pot with lid that Emmie covered with gum machine charms and buttons and old jewelry. A few have fallen off over the years. I copied the picture of us and glued it to a button to fill one of the spaces.
You see, of the 4 children that Emmie helped my Great Grandparents raise only 2 of them had children. One boy and one Girl - my Mom. Mom was the oldest by several years and being the first she was the "favorite." My siblings and I were the only great grandchildren and being the first I always felt like the favorite. I doubt any of us really was but Emmie always had a way of making one feel super special.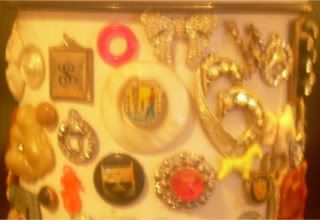 See the fancy "B" and the little "E" here? Emmie told me it was for "Becky" and "Emmie." See why I felt so special? The only other letter on there is an "S" for my Great Uncle Sam. He was the youngest of the 4 and lived at the homeplace and ran the store until his death.
Emmie kept
Red Bird brand peppermint sticks
in this pot. They are almost as good as her sugar cookies were.
Happy VTT everyone! Go check out more Vintage Thingys at
ColoradoLady's Blog
Be sure to check out the
Summer Fun Pic Print Give Away which ends tomorrow!