Yooooo!!
Down another .5 pound! Yay!
I have been charting my progress at
Fitness Magazine's website
. They have some great wisdom to share on healthier living. Menus, articles, beauty tips and a bunch of great charts for plotting your course. According to my weekly weigh-in I am 14% of the way to my ultimate goal of getting rid of 50 pounds in a slow, steady, healthy way. But I am more than 100% to my goal of losing 4 pounds this month.
Drinking more water than diet soda has been the biggest change followed by more veggies & fruits and capped off with more exercise.
Yesterday and today I mowed our lawn.
(Ran outta gas so had to finish today.)
I would say I mowed the grass but we really don't have grass so much as we have a former cow field with lots and lots of weeds.
Our humble abode was built less than 20 years ago as part of a small neighborhood of rental properties. Most are now single owner homes like ours is. These are some super sturdy houses. Very well built but plain.
The land's former life was of fields and pastures. The builders did not do one bitty bit of landscaping but did provide large parking areas of gravel.
Gravel from the road all the way to the house.
Gravel a good 10-12" deep in some places.
I hate gravel.
Can't walk barefoot on it. It washes away in a big storm. Can't walk barefoot on it. Weeds grow up in it.
And did I mention - can't walk barefoot on it?
So we have toiled with re-arranging the gravel, importing fill dirt and planting perennials and gardens and clotheslines and a picnic table.
I actually like to mow the yard. I walk around and around and think.
(Bill hates it when I do that cause I get ideas!
heehee
)
I daydream and plot my next yard projects. Like how to transform this pile of broken bricks in to a lovely beginning of a patio at the bottom of these back steps.
That ugly plywood needed to go 3 years ago when we bought the house!
As I walked yesterday I was extremely hot and sweaty but every now and then - a gust of wind giving temporary relief. I thought about what an outdoors kind of kid that I was and how "citified" my own kids are.
I drank from the side of the house water spigot just as we did as kids.
I watched grasshoppers flee for their lives in the path of my mighty Honda motored mower, laughed at the blue tail lizards scurrying up the side of the house,
wondered how to rid the yard of the burrowing varmints whose tunnels I step into,
waved at neighbors who passed by,
and for all the hard work I was rewarded with this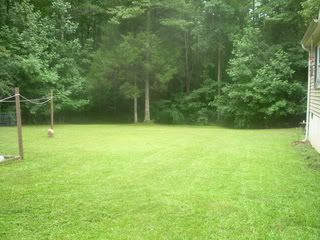 and I relaxed.
Don't forget just a few days left on the
Canvas Print Give away!
Be sure to enter!