Okay friends! This is soooo cool!
Beth over at
Sew, Mama, Sew!
is graciously hostessing a give away that is Blog World Wide!!!
Seriously, really, really, really BIG!!! All sorts of bloggers (including me) who craft are giving away stuff during this event. Everything will either be handmade or will be supplies used to make handmade.
There will be a list posted on Wednesday, May 27th at
Sew, Mama, Sew!
You can read about all the different giveaways, go to the different blogs and try to win stuff. Lots and lots of stuff!
I will give away an Apron! Yeah, I know,
big surprise Becky.
To win this apron, which really is almost an apron: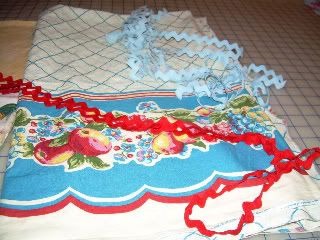 In the comment section below, leave your name and name your favorite Vacation spot in one sentence describing why it is your favorite place to escape.
AND
(drum roll please)
I'm going to give away a tote bag too!!!!!
To win the tote bag, leave your name in a separate comment with your favorite color. That will be the main color of your tote!
Be sure to fill in the e-mail address space so I can contact you if you win.
(Remember, no one else sees your e-mail and I won't peak at it unless you win.)

You have until midnight EST, Sunday, May 31st to enter.
For each contest (separately,) I will put the names in my Martini Shaker and draw the winner. You will be notified on Monday.
I will ship internationally too!
Now scoot, go to
Sew, Mama, Sew!
and check out all the Give Away Contests!! I'm probably already there trying to beat you to it!