Just one week until National Wear your Apron day!!! May 11, 2009 - Their
website
has more info.
I discovered a new to me fabric store last Friday! Lynne's Fancy Stitches Outlet in Siler City, NC. It's one of those hidden in plain sight gems! (Don't go looking for a website. It's a very low tech operation.) This little store was packed to the ceiling with amazing fabrics! And more trim than I could take in! Her prices are incredible too.
Lynne and the nice lady who works for her whose name has slipped from my brain were so helpful and completely interested in me - the customer!!! We talked as much as I shopped. (I know no strangers!)
All this to say that I am sooo dern happy to have found a LOCAL fabric store. Okay, not local like 5 minutes away but local as in it's in my county and it has no corporate branding. Take a couple of minutes to check out the 3/50 website that's linked over to the left. It's all about spending our money in our community and saving as many of the Mom 'n' Pop stores as possible.
Now for what I found there!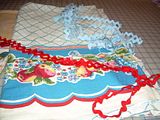 Check out the super jumbo rickrack!!! As EllynAnne Geisel says, "You can never have too much rickrack!" I bought other fabric - a bunch of purples and purple rickrack! But my camera batteries died. Woo! All of the fabric I bought will become aprons.
And finally - duh duh tah duh!!! My Very First Super Special Apron Giveaway!
Here's how to win:
Leave a message at the end of this post. Tell me something about where you shop for crafty/fabric-y things
or
about your intense love of aprons or even better-both!
Do this by midnight (your time) on Sunday, May 10th.
On Monday, in honor of National Wear Your Apron Day, I will put all your names in some sort of container* and draw the lucky winner!
The winner will choose from one of the two fabrics shown above that I picked up at Lynne's.
Wheeeee......
Now get to typing, please.
*What sort of container should I use? Susan over at
Not Quite June Cleaver
uses her infamous Mason Jar. I could use a hat but that seems so not original.
Ideas?