It's Friday. It's almost 1:00 pm. I have been wasting time, er, perusing the internets for ideas and uploading pictures to share with you.

I don't know about you but I get so sucked in to the World on the Internets! Suddenly hours have passed me by and the laundry and dishes are still waiting to be attended to.

Remember the St Patrick's Day tablecloth? Finally ironed it and it's finished. Neatly folded and tucked in to the drawer of Bill's Grandma Daisy's side-board/buffet til next Spring.

Here's sort of a tutorial on how I made it - more like "made it up as I was going!"

Started with some freebie machine embroidery patterns on scrap black velvet and remnant gingham and a big ol piece of shamrock fabric (45" x 45.")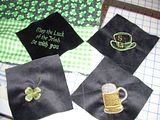 Added an "S" to the Leprechan hat for our last name. Cute, huh?

The velvet squares were about 6" x 6" and the gingham strips were 6" x 45"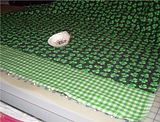 I stitched 2 squares to the ends of 2 gingham strips. Stitched those on opposite sides of the shamrock fabric then the remaining strips on the remaining sides. Joined 'em, then put plain white lining fabric right side to right side to the tablecloth. Stitched around leaving a hole for turning. Turned it. Ironed it. Voila!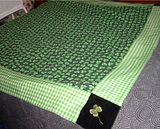 It's cute I think.

I'm also addicted to knitting. We had a huge power knocking out Ice Storm in the Winter of '02. That's when the addiction began................

More on that later!

Have a great weekend everyone!!!!!!!