I love thrift shopping.
Yesterday, my BFF Anne and I met up with Bea of
Bea's Blabber
. It was great to meet in person.
We three were on a mission. Our five-hour mission: to explore strange old stores; to seek out old stuff from old civilizations; to boldly go where no man dares to go!
(I love Start Trek!)
The day started sorta foggy.
Truckie is all gassed up and ready to go.
Whoa! What the heck?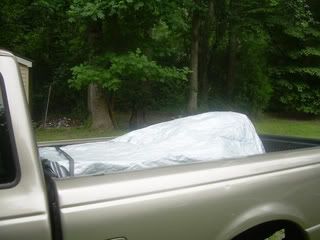 Oh man, I gotta do a trash/recycling run on the way. I'm gonna be late.
Anne and Bea are waiting for me and are having a good time gettin to know one another. We head to our first destination - "Everything but Grannie's Panties." This old 2 story house is crammed full of old stuff! We wander through the rooms ooohing, ahhing and saying "I have one of those." "My Mom has one of those." "I remember those."
Each room is set up with it's own theme. The kitchen has kitchen stuff, the dining room has dining stuff - you get it. In the Parlor there are fancy clothes and swimsuits hanging around the walls. Anne is preoccupied with "art" while Bea and I sit down to go through the big basket of little linens.
Bea finds a "pretty."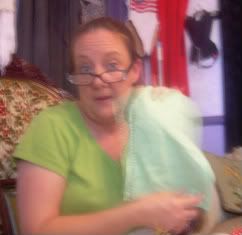 We moved upstairs where there are a couple of bedrooms and an "attic."
I found a coat and hat.
Chic, qui?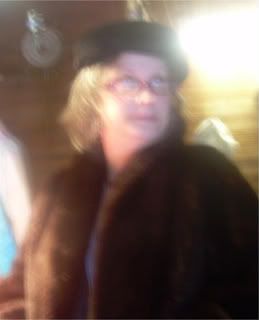 Coat was to small.
Bea and I went through the bathroom which is strangely where they keep all the crafty things. Weird. I found 4 cool patterns.
Anne came around the corner ready for the Kentucky Derby!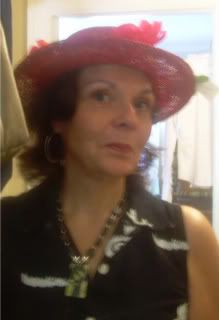 We all bought some old stuff to add to our stashes. Here's what came home with me.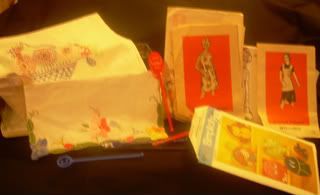 Then we were off to "Pennies for Change." This store was established to raise money to help victims of domestic violence. I hadn't been there in a couple of years and was quite impressed with the improvements. Not a whole lot of vintage here. We did find some bargains though. I scored a pair of linen pillowcases in pristine condition. Yay me! Maybe I'll embroider 'em around the openings and convert 'em into pajama bottoms. (To totally steal an idea from a friend, Lisa of
The Hemline
who sells these at her etsy shop of the
same name.
)
By this time we were all hungry and I was close to getting cranky. Good thing Anne was driving us around.
We had lunch with the Colonel.
We then ventured to the Duke U Thrift Store. They were already closed. One whole minute before the posted time too. That's okay, we agreed we didn't wanna give dook any money as we three are Carolina TarHeel (Anne), Kansas U (Bea) and Wake Forest/Clemson (me) fans.
Off to the Goodwill - which is huge! After we looked at
everything
Bea declared, "That's it. I'm done. Time to go home."
Wish I had taken more pics. We laughed a whole, whole bunch.
Three storytellers with funny kids we are.
Three on a mission.
Aaarrgh!
Check out all the other cool Vintage thingys by going to
Coloradolady's blog
for the list of participating blogs.