Happy VTT!!! Be sure to go to Suzanne's
ColoradoLady
blog for more VTT goodies!
I am having a 2 week celebration of my Blogiversary! It's March 13th. More on that later.
I have books. Bills has books. We have books.
We can actually read.
I love collecting practical books and have some really neato sewing books.
From 1960
Dig the sewing corner featured within........
1959
1958
1957 and 1955
1950
Assorted Booklets from the 50's and 60's
1943
1927
From inside
"Selecting becoming colors as they do in Paris"
Evidently they did it different in 1920's France!
Besides being bookshelf dust collectors eye candy, I find myself referring to these books for instruction, inspiration and of coarse, to select becoming colors in the Parisian way!
Back to my Blogiversary.
I have met so many wonderful folks via blog writing and reading. I have learned so much about sewing, knitting and life from you, my Blogisphere friends.
I must share more than my ramblings. I am having several Give Aways leading up to my March 13th Blogiversary
The first one is posted
here
where you may read a bit about my Boston Terrier obsession and how to win that prize.
Today, because I love sewing books so much I want to share some with you.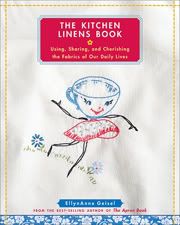 Yep, all 3 of EllynAnne Geisel's wonderful books! I borrowed the pics from her blog site -
Apron Memories.
I love this woman! And after meeting a year or so ago I can tell you she is every bit as sweet, gracious and southern as her writing indicates.
How may you win you ask?
Leave a comment here telling me the name of your favorite sewing, knitting, crocheting, crafting or creative type book.
Easy huh?
Extra entries - Please leave a separate comment for each extra entry. Thank you.
#1 Follow my Blog or remind me that you already follow me.
#2 Grab my button for your blog or remind me that you did that already.
You have until my Blogiversary, Saturday, March 13th, Midnight Eastern Standard Time to enter. I will draw a name on Sunday, March 14th and announce the winner!
Make sure I have your e-mail so I can let you know you won!!!
Stay tuned because I have more Give Aways planned!